Reflections of Duke
HOT & Brass put early and late compositions of Duke Ellington into the perspective of a mini organ bigband
Jazz on the organ in the church: the men from HOT The Organ Trio prove again and again that it is possible! In their newest project they jump on the big band repertoire of jazz icon Duke Ellington. Organist Berry van Berkum, clarinettist Steven Kamperman and bassist Dion Nijland welcome in this project the sparkle of young trumpet talent Ruben van Drenth and the glowing improvisations of trombonist and Ellington connoisseur par excellence Joost Buis. With extra trumpet and trombone, HOT produces surprising and overwhelming orchestral sounds.
In Reflections of Duke HOT makes a striking repertoire choice by focusing only on Ellington's early work (before 1930) and his late work (after 1965). Swing pieces like Jubilee Stomp and Rockin 'in Rhythm accompany thoughtful gems such as Come Sunday and Heaven (from his Sacred Concerts). And HOT wouldn't be HOT without putting the old arrangements in a contemporary perspective. The pieces are taken apart, adapted to the space and reassembled. In addition, the musicians sometimes even run through the space of the church in search of its optimal acoustic and theatrical qualities.
In Reflections of Duke, the old master composer looks back on his young years, and his sounds are still as fresh as ever.
Steven Kamperman — clarinets
Dion Nijland — double bass
Berry van Berkum — organ

Special guests:
Ruben Drenth — trumpet
Joost Buis — trombone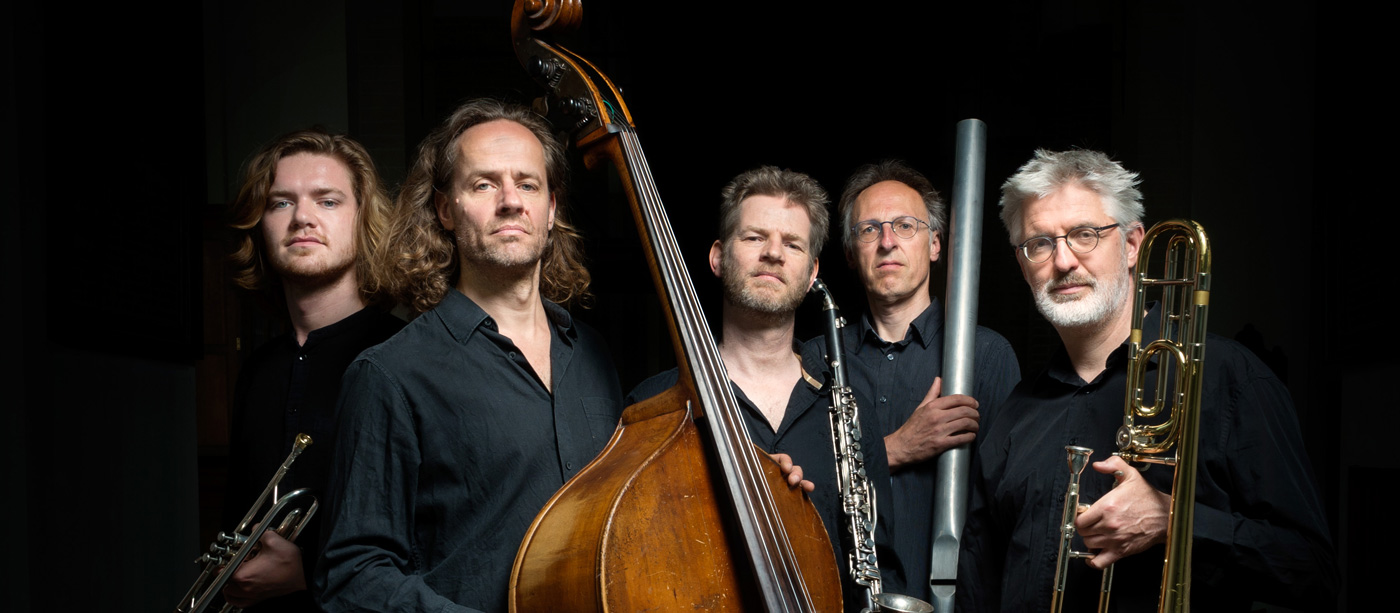 01
Jubilee Stomp
1973, Duke Ellington, arr. Steven Kamperman
02
T.G.T.T.
1928, Duke Ellington, arr. Steven Kamperman
03
Indescribable
Inspired by The Majesty of God, 1973, Duke Ellington, comp. Berry van Berkum
04
Come Sunday
Version 1965, Duke Ellington, arr. Steven Kamperman
05
The Mooch
1928, Duke Ellington, arr. Dion Nijland
06
Mood Indigo
1930, Duke Ellington, arr. Steven Kamperman
07
Rockin' in Rhythm
1930, Duke Ellington, arr. Steven Kamperman
08
Almighty organ
Inspired by Almighty God, 1973, Duke Ellington, comp. Dion Nijland
09
Svoboda
Inspired by It's Freedom, 1968, Duke Ellington, comp. Berry van Berkum
10
Black & Tan Fantasy
1927, Duke Ellington, arr. Steven Kamperman
11
Heavenev
Inspired by Heaven, 1968, Duke Ellington, comp. Berry van Berkum
'The CD offers an hour of astonishing music that breathes the atmosphere of Duke Ellington, with its linked timeless quality, but which - as a result of HOT's approach – also has transformed to music of the 21stcentury.' Moors Magazine / Holly Moors
'This record shows once again that Ellington's music is still more than worth listening to, especially when it is presented in such a fresh and contemporary way.'
Nieuwe Noten / Ben Taffijn
'Next to the countless already existing interpretations, HOT Het Orgel Trio added one that really makes an impression and brings the music to the realm of contemporary innovation, but which at the same time celebrates the timelessness of the master.'
Jazznu / Rinus van der Heijden
'The small line-up in combination with the considerable reverb and the full sounds of the organ seem to give Ellington's compositions an extra intimate and spiritual character.'
Jazzism (print only) / Ken Vos
'Drawing inspiration from compositions written during the outer stages (early and late) of the prolific genius's oeuvre, the collaborative efforts of this little big band match their name, HOT!'
Diane Luchese, Towson University, Baltimore
Reflections of Duke
Special thanks to

Gemeente Utrecht,
Prins Bernhard Cultuurfonds,
KF Hein Fonds,
Fentener van Vlissingen Fonds, Stichting Elise Mathilde,
Norma Fonds,
SENA Performers Muziekproductiefonds
HOT Het Orgel Trio

Bokkeduinen 4
3452 JN Vleuten
The Netherlands