& BRASS
& SILENT FILM
ORGAN, CLARINET, BASS
Though jazz music is heavily indebted to the church soul tradition, jazz on the organ in the church is still rather an exception. HOT proves it can be done, and how! Jazz classics of Duke Ellington and Charlie Parker get a most surprising twist. Old music at its turn transforms into sizzling improvisations.
Together with the impassioned clarinet player Steven Kamperman and the versatile Dion Nijland on bass, Berry van Berkum makes the pipe organ thunder, groan and vibrate with HOT air. And as always, the trio takes the audience along on a journey throughout the building.
Festival Organ with a twist!
10 year anniversary festival on the 13th & 14th of October 2023 in Utrecht
— Read and hear more
Jazz from the seventeenth century
HOT & Sweelinck takes a dive into the rich waters of Netherlands' most famous composer, and discovers old and new sounds
— Read and hear more
Reflections of Duke
HOT & Brass puts early and late compositions of Duke Ellington into the perspective of a mini organ bigband
— Read and hear more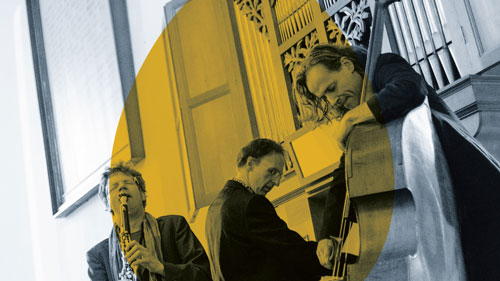 Bird & Beyond
In 2015, some sixty years after his death, we decided to look how much space we could still find in the music of Charlie Parker
— Read and hear more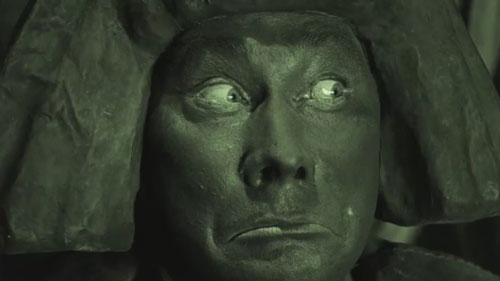 Der Golem
Music with film, or film with music? HOT impersonates the legendary clay monster Der Golem, powerful but turning against its builders
— Read more
Steven Kamperman — alto clarinet
In 1998, clarinettist and composer Steven Kamperman (1970) did the prestigious Dutch 'VIP tour' with his band 1 Step 7 Seas, followed by a tour including performances at the SJU Jazz Festival (1999) and North Sea Jazz Festival (2000). In 2002 - together with the Turkish singer Behsat Üvez - he founded the Turkish-Dutch world-improvisation ensemble Baraná, resulting in a decade of intense cooperation and 6 highly acclaimed CDs. Their ensemble Baraná – in different line-ups – was heard from Mexico to Siberia. Since 2012 Kamperman has been performing with his own Steven Kamperman Trio establishing links between modern, ancient, eastern, and western modal music, and in duo with the famous French hurdy-gurdy player Valentin Clastrier. As a composer for other ensembles, he also wrote several string trio's and, in 2015, the acclaimed opera 'Little red riding hood' for Holland Opera, receiving four star reviews in Volkskrant, NRC and Theaterkrant.
Dion Nijland — bass
Dion Nijland (1970) studied double bass at the Sweelinck Conservatory in Amsterdam. Besides his activities with HOT (Het Orgel Trio) he plays jazz and improvised music in groups such as Dimami, VanBinsbergen Playstation, The Chronometer's Orchestra and De Bende van Drie. For almost 10 years Dion was part of Talking Cows, a famous Dutch jazz quartet . In 2006 Dimami took part in The Young VIPs Tour with, among others, Anton Goudsmit on guitar. He has played with a wide variety of groups in France, Germany, Chile, Bolivia, Iraq, Turkey, India, Portugal and the USA. In 2006 he took part in the Oostpool Theatre Group production of Brel, featuring Jeroen Willems in the title role. In 2009 he joined The RO Theater group in the theater play Woyzeck and shortly after did a large tour with the dance company Station Zuid in a piece called Ghost Note: a danced tribute to jazz. As a double bass playing improviser he was musician in residence in his hometown Utrecht in 2009, as well as in Nijmegen in 2011. Dion teaches double bass at ArtEZ conservatory in Arnhem.
Berry van Berkum — organ
Berry van Berkum (1960) studied the organ, improvisation and piano at the Arnhem Conservatory with Bert Matter and Jacques Hendriks respectively. He participated in masterclasses with Harald Vogel (BRD) and Louis Thiry (F), and pursued his improvisation studies with Bert van den Brink and Jan Welmers, and composition with Andries van Rossem and Klaas de Vries. Berry van Berkum was a prizewinner at international organ competitions, including the Dollard Festival (BRD), and has recorded music by Messiaen, Welmers , Bach and others for radio and CD. He is a well known solo player and (jazz) improviser in the Netherlands and abroad. He was appointed organist of the Nicolaïchurch in Utrecht 2011 and is since may 2018 organist of the Dominicanenchurch in Zwolle as well.

HOT Het Orgel Trio

Bokkeduinen 4
3452 JN Vleuten
The Netherlands